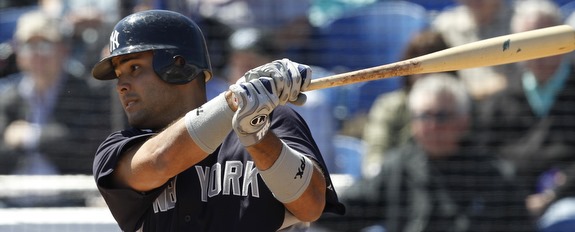 Following up on Larry's piece on prospect hugging, I wanted to insert another reality check about a prominent member of the Yankee farm system. For years, we've heard about Jesus Montero's "can't miss bat" from respected sources like Baseball America and Baseball Prospectus. Scouts and talent evaluators all agreed (or did at one point) that whatever his shortcomings may be defensively, whether he sticks at Catcher or not, the dude can flat out rake. When trade proposals would be floated among Yankee fans online, a common argument against trading him would be "you don't give up an elite bat for (insert pitcher here)". It always struck me as foolhardy to assume anyone will be "an elite bat" at the MLB level, and the Yankee willingness to deal Montero raised an eyebrow for me. Jack Z (who has extensive expertise in player development) passing on him in favor of Justin Smoak raised that eyebrow further. Teams always know their players better than anyone else, and while no knowledge is perfect odds are they see something everyone else is missing or has yet to reveal itself. In the case of Jesus Montero, I think we are now getting enough data to see what others may have missed. Here's his advanced stats from his Fangraphs page:
Season
G
PA
BB%
K%
ISO
BABIP
AVG
OBP
SLG
wOBA
wRC+
2007 (R)
33
123
9.8 %
14.6%
.140
.310
.280
.366
.421
.373
126
2008 (A)
132
569
6.5 %
14.6%
.166
.362
.326
.376
.491
.389
142
2009 (A+)
48
198
7.1 %
13.1%
.228
.381
.356
.406
.583
.446
185
2009 (AA)
44
181
7.7 %
11.6%
.222
.321
.317
.370
.539
.407
152
2010 (AAA)
123
504
9.1 %
18.1%
.227
.319
.289
.353
.517
.375
132
2011 (AAA)
75
323
7.1 %
22.3%
.129
.346
.281
.337
.410
.331
103
The three year trend line is headed straight down in OBP, SLG, wOBA and wRC+. As the competition he's faced has improved, the concerns about plate discipline and pitchers exploiting his aggressiveness have come to pass. Since peaking in High-A in 2009 his results have gone down annually when you look at his advanced numbers. This is not one bad season, its a manifestation of an underlying trend that's becoming more evident as the sample gets larger. If anything, Jesus has been lucky with the bat this year. His .346 BABIP is higher than it was in AA or last year in AAA, though it has to be noted that 09 was a split season between two levels and it's very tough to come up with a reliable xBABIP for a player in the minor leagues.
Another disturbing trend is his exploding strikeout rate. He appeared to be improving in that area in his initial promotion to AA, but his K% has almost DOUBLED in the past two seasons. That's not an accident, pitchers have found holes in his swing and have exploited them mercilessly. These are minor league pitchers with minor league stuff and minor league scouting reports. There's no publicly available Pitch Type Value numbers, spray charts, Inside Edge hot/cold zones. We can only imagine what big league pitchers with their experience, ability and the resources available to them would do to Mr Montero. A 22.3 K% would be even higher at the big league level, and looking at the MLB leaders guys like that who don't field their position well typically provide very little value to their team.
There's another thing that bugs me about these trends. It's not uncommon for players to rake in the lower levels and stub their toe somewhere along the way as they advance up the ladder. But there's no evidence of an adjustment having been made, where he rebounds and proves he can counter what pitchers are doing to him. Even the strong 2nd half he had in 2010 was more of a correction from the abysmal first half he had that year, and it has to be noted that most of the better pitchers with MLB ability in AAA get promoted by mid-season, so I'm always dubious of strong 2nd halves by hitters, particularly in AAA. Coupling this lack of progress with multiple attitude-related incidents, and you begin to wonder if the young Mr Montero respects the game, and its ability to humble even great talents like him, as much as he should. If he is traded, maybe that gets his attention and he will become the player we all thought he'd be. Maybe all the time and effort of making him a Catcher is the problem, and a team that moves him to 1B will unlock the potential in that potent bat of his. But in either case, those things won't happen while he remains with the Yankees. His stock has taken a big hit already, and it may be time to sell before it goes down any further.