The Case for Cooperstown: Bernie Williams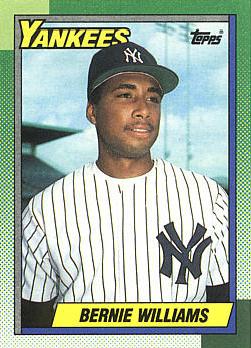 Because of the on going Derek Jeter negotiations (they show up in every article, huh?), I've been thinking a lot about the last player the Yankees took a hard stand on: Bernie Williams. Like Jeter, he was an icon of the team. He'd spent his whole career with the Yankees, winning four World Series titles, as well as winning a batting title in 1998. He also led the league in intentional walks in 1999, which just goes to show you how "feared" a batter Bernie was (that one's for you, TSJC & Jim Rice)
When perusing Bernie's stats, we realize that he was a pretty damn good hitter. He had a .371 wOBA out of centerfield to go along with a 125 OPS+. He averaged 3.9 bWAR per 162 games as well. This got me pondering the idea of Bernie having a Hall of Fame chance when his time comes in a year? My gut reaction was always no. But, since I've got an at least partially analytical mind, I decided to jump into the numbers and compare Bernie to the 17 HOF centerfielders to see if Bernie has a shot.
I compared the players using three basic categories (the ones listed above): OPS+, wOBA, and bWAR/162 games.
The leaders:
OPS+: Mickey Mantle at 172
wOBA: Ty Cobb at .451
bWAR/162: Ty Cobb and Willie Mays tied at 8.5
The Trailers:
OPS+: Lloyd Waner at 99
wOBA: Lloyd Waner at .347
WAR/162: Lloyd Waner at 2.4
The Median*:
OPS+: Edd Roush at 127
wOBA: Hugh Duffy at .398
bWAR/162: Billy Hamilton at 6.4
* Not including Bernie Williams
So, Bernie's somewhere in the middle of the "worst" HOF CF (Lloyd Waner) and the median HOF CF, represented by the Roush, Duffy, and Hamilton trio. It's worth noting that Duffy and Hamilton were essentially pre-modern players, though. Their careers ended in 1906 and 1901 respectively. That gives us a grain of salt to take with their defensive/WAR numbers.
There are just two players of the 17 that Bernie beats in all three categories: Waner and Max Carey, both of whom were Veterans' Committee selections into Cooperstown.
Williams also beat Richie Ashburn in OPS+ (111) and wOBA (.364), while falling short of him in bWAR/162 (4.4).
The closest modern comparison we have to Bernie is Kirby Puckett. Like Ashburn, Bernie beat Kirby in OPS+ (124) and wOBA (.365). Also like Ashburn, Kirby beat Bernie in bWAR/162 (4.2).
Bernie also matched Earle Combs' 125 OPS+ mark.
At the end of this brief study, my initial thought was confirmed. Bernie Williams is not deserving of induction into the Baseball Hall of Fame. What hurt Bernie's case? First off, there was his defense. While Bernie won Gold Gloves, no one took them very seriously when it came to Mr. Williams. His defensive reputation was less than sterling and the numbers for bWAR back that up; they peg him as a -12.0 defender over the course of his career. More damning, though, was the last four year period of Bernie's career. From 1991-2002, Bernie was an offensive machine in CF, posting an .890 OPS (133 OPS+) during that time frame. Had he kept that up, I think Bernie would have a slightly stronger case for Cooperstown. From 2003-2006, though, things dropped off big time. In that span, Bernie was essentially an average hitter. His OPS+ was exactly 100, the product of a .758 raw OPS. Two things come to mind here.
1. Bernie's "decline" phase saw him hit at a league average level. That should remind us of how good a hitter he really was. How many guys have a decline phase that seems them drop to "only" an average hitter?
2. If that's the case, why don't his numbers look better? An .890 OPS over 12 seasons is nothing to sneeze at. However, it would appear that it wasn't quite "good enough" to buoy an average four year span up enough to make Bernie into a Hall of Fame player.
This is the first time during the Case for Cooperstown Series that I've decided a player SHOULD NOT get int the HOF. It's too bad that player had to be Bernie, especially since he was always the one whose batting stance I imitated during Whiffle Ball games. But, in analyzing baseball, we can't afford to be sentimental. I'm sorry, Bernie, it's nothing personal…only business.