Happy Thanksgiving to all our readers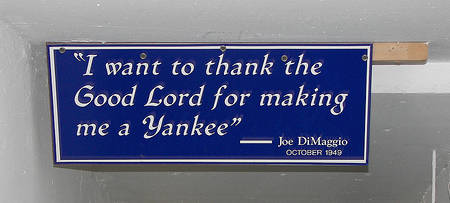 As Yankee fans we have many blessings. Rooting for the most successful franchise in sports history is a recipe for a sports life that will be filled with many magical memories. While most fans in most cities are happy to simply make the playoffs, Yankee fans are crushed when they lose in the ALCS. I've always embraced those expectations, but it is important to keep the lofty perch the Yankees occupy in perspective. Baseball is by it's nature a game of failure, yet we as Yankee fans experience less of it than anyone else. Thanksgiving presents us a perfect opportunity to take stock of our bounty and reflect upon this.
Thanksgiving is a uniquely American holiday, one not tied to any religious affiliation or ethnic group. As Americans, we all celebrate it. Baseball is a uniquely American game, while it has spread globally in recent years its roots trace back to the sandlots of Newark, New Jersey and its folklore to the fields of Cooperstown, New York. It's our national pastime, and the history of the game is that of America itself. The game has reflected our society and times from early struggles with race to the melting pot we see in Baseball and country today. It's been said that one can come from anywhere and be an American, if you embrace what this country stands for. The same could be said of Baseball. All are welcome, united by our passion for the game. The older I get, the more I appreciate the lessons of game and the parallels it has with our lives. Overnight success stories seem to get all the attention, but most of us build our lives slowly and experience much failure on the road to success. Hanging in there with patience and perspective is one of the great lessons of the game. Baseball teaches us the value of perseverance,  not getting too caught up any individual failure knowing that there's another at bat coming up in a few innings, and another game to be played the next day. In these tough economic times, that message resonates more than ever.
In closing, I just wanted to take a moment to thank all of our readers and those who leave comments on this site. The debates we engage in here are challenging, informative, and for the most part respectful. At TYU we may not be the biggest Yankee blog out there, but I'm very proud of the work we do over here on a regular basis. Sports talk radio and Newspapers aim to reach the man on the street, which I have no issue with, but blogs like ours tend to aim higher. Blogging here has been very rewarding for me on a personal basis, and I can only hope that our readers feel the same way about the content we deliver. A very happy Thanksgiving to all, and as always thanks for reading.