Where are they now-Edwar Ramirez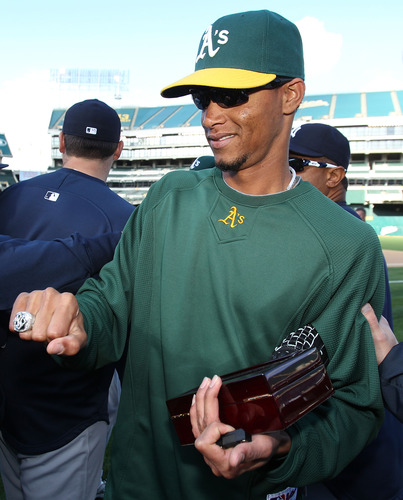 This is the first installment in a series I plan to run in the coming weeks. It's a variation on 'Keeping up with the ex-Yanks' where I'll give  a more detailed profile on an individual player and what has been going on with them and their career.
The last time Yankee fans saw Edwar, he received his World Series ring from the Yanks when they made their first trip to Oakland in April. He ended up in Oakland by way of Texas. On March 9 of 2010 he was purchased by the Texas Rangers from the New York Yankees for cash considerations. The Rangers turned around and traded him 3 weeks later to the Oakland Athletics for Gregorio Petit. He broke camp with the team, but didn't last long. He appeared in 7 games for the A's, pitching to a 4.91 ERA and 1.727 WHIP. In 11 innings he gave up 9 hits and 10 BB while striking out 10 batters. He was designated for assignment on May 15, and then sent to Triple-A Sacramento on May 21. Playing for the A's minor league affiliate, his results haven't been as good as they were in the Yankee minor leagues. Edwar always maintained ridiculous strikeout rates in the Yankee farm system. He posted a 13.8 SO/9 in 2006 with the Yankees Tampa affiliate, 16.2 SO/9 in 2007 between Trenton and Scranton, 13.0 SO/9 in 2008 in AAA and 10.9 SO/9 in 2009. But in his 2010 season in Sacramento, his SO/9 rate has dipped to 6.3/9 IP while his Walk rate has jumped to 4.2/9 IP (1.430 WHIP). By contrast, his WHIP was below 1.078 each season he played in the Yankee minor league system. It appears that even the minor league hitters are catching up to Edwar at age 29.
I always liked Edwar, from the way he taught himself that 'bugs bunny' change up to his tenacity in sticking with Baseball in the independent leagues after being rejected by all MLB affiliates. He reinvented himself with that pitch and had a nice run as a player, making professional hitters look silly when they guessed wrong. Coming from the small town El Cercado in the Dominican Republic, he's the only one who ever made it to the big leagues, and he got a World Series ring to boot. That's not too bad for a skinny kid from a poor, rural town.