Full Scouting Report on Dellin Betances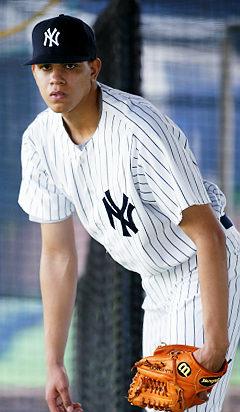 Frank Piliere of MLB Fanhouse has spent some time with the Yankee minor league affiliates lately, scouting Andrew Brackman and Manny Banuelos. As good as the Manny-Banny report was, it would seem he saved the best for last. He penned an absolutely glowing report on Dellin Betances, putting him at the top of a Yankee farm system which is knee deep in pitching these days. Some highlights and commentary:
What can you say about a guy who is 6-foot-8? His presence is immense on the mound and that's one of the first things you notice about Betances. And this is not a young man who looks like he could blow away out there. The 22-year-old is a very strong, well-built athlete. He has the long limbs to match his extra-large frame, but overall looks comfortable and coordinated. You see a lot of tall pitchers, including Yankee prospect Andrew Brackman, that can look a bit awkward at times. That doesn't appear to be the case with Betances.
That's noteworthy because when both players were drafted, Brackman was the one thought to have a smooth, clean delivery while Betances was considered to be very raw. Clearly, Dellin has passed Andrew in this area of their game according to Frank.
Betances has a true presence on the mound and quietly seems to believe no one can touch his best fastball. However, that does not mean he is reckless in the zone. Sitting consistently at 94-95 mph, Betances routinely bumped 96-97 mph up in the zone.
And the key words here are up in the zone. Betances already shows an advanced idea of how to use that explosive fastball as an out pitch up in the zone. You rarely see minor league pitchers do this with any real intent. But on a consistent basis, he was willing to start hitters with off-speed pitches to get ahead and then finish up in the zone at 95-96 mph.
Polish like this is rare with any pitcher his age (22) but to have that in combination with his talent and physical advantages is something truly special.
For a pitcher of Betances' limited experience and power stuff to have anything resembling a decent change up would be surprising. It turns out Betances has more than just a show changeup, and instead has a very usable 5 changeup on the 2-8 scouting scale. Given the good two-seam movement he has on his 82-85 mph change, there's potential for it to grow into a plus pitch if he can refine his command.
To his credit, he already has enough confidence in his changeup to go back-to-back to start off an at-bat then finish with his fastball. Pitching backwards is not something you expect to see at this level from a young man with a 95-mph fastball.
A serviceable Change up would be useful when you're throwing 96 on 2-2 counts and/or when he loses command of his Curve. But a solid Change is a real weapon, one that should prevent him from suffering a stark platoon split.
Given some real similarities in their deliveries, as well as having highly similar arsenals and approaches, the best modern-day comparison for Dellin Betances is Josh Beckett. Obviously, Beckett may not still be that dominant pitcher, so this comparison goes more for the Beckett of old. Betances obviously is taller than Beckett, but other than that they are comparable in just about every other way, including the powerful mid-90s fastball, their deliveries, and the hard 12-6 hooks.
As exciting as the Josh Beckett comp may be, it may also be a little light. Beckett has always been a 2-pitch pitcher. The way Piliere described Dellin's change and his confidence in using it, his ceiling could be higher. Having an effective Change should give him a go-to pitch against opposite handed hitters, and his account of him using it not once (which would be unusual) but twice to start an AB and be able to throw it for strikes is almost unfair.
That leads me to my main takeaway from Frank's report. Dellin's advanced feel for pitching really jumps out at me. Beckett was (and still is) a gunslinger who works everything off his plus fastball. Dellin's ability to start guys off with breaking pitches/pitch backwards is (as Piliere said) almost unheard of for power pitchers his age. Those are old man skills, that aging pitchers use to keep hitters off balance because they're working with diminished stuff. But Dellin has plus stuff and innate physical advantages, so to be that polished and mature at that young an age it's almost scary to think how good he can be. Stay tuned. . . .
NOTE: There are rumors floating around that both Dellin and Manny-Banny are heading to AA with Zach McAllister heading to CLE. If we get that confirmed anytime soon, we'll get a link up.