To most observers, Alex Rodriguez is having a down year.  His batting average is .267, and he's averaged .303 his entire career.  His on-base percentage is an ugly .335, 60 points below his career average.  His slugging percentage is .488, the lowest of his career and nearly 100 points below his career average of .571.  The easy approach here is to conclude that Alex is declining, and then carry on about steroids, his contract, and how the fact that the Yankees buy all their players will come back to bite them as Alex gets into his late 30s.
That type of analysis is cheap and lazy, though, and would fit better in a Wallace Matthews piece.  There's more to the story than just the tripleslash and steroids, right?  Of course.  Rodriguez has a lifetime batting average on balls in play of 0.319 and this year it is 0.275.  He has a lifetime line drive percentage of 17.9% and this year it is 14.6%.  That three percent difference is made up entirely in his groundball percentage (45% this year, 42% on his career) and his fly ball percentage is 40.0%, exactly at career average.  His walk rate is 9.4%, down from his career average of 11.0%, but his strikeout rate is also about two percentage points lower than his career average.  These are the facts.  Off the top of one's head, the logical thing to conclude would be twofold.  Firstly, his lower BABIP is probably due to rebound, but the decline in line drive percentage is troubling and could be an explanatory factor.  Better and stronger contact yields better results.  Secondly, the lower walk rate is another troubling sign, and taken with the lower BABIP provides a perfect explanation for the career-low on-base percentage.
It would be easy to end the analysis here and take the decrease in line drives and walks and treat it as an Official Indicator about a declining Alex Rodriguez.  The danger, though, is using small bits of information to confirm preexisting expectations and narratives about a player.  For instance, when we look at low OBPs and BABIPs we think about walks and line drive rates.  When we look at the walk and the line drive rates and find them lower, it would be easy to conclude that we have our culprits. Similarly, when we look at a lower home run total and find his HR/FB ratio lower, it would be easy to conclude that either his aging body isn't capable of driving the ball out of the park like he once was, or that he's unlucky, whichever suits the narrative best.
But it's not so simple.  On his career, Rodriguez has a line drive rate of 17.9%, a walk rate of 11.0% and a HR/FB ratio of 23.0% and he hit .302/.387/.571.  In 2010, he has a line drive rate of 14.6%, a walk rate of 9.9% and a HR/FB ratio of 14.8% and he's hitting .267/.335/.488.  If one applies his career drive rate to this year's batted ball data, he would have hit eleven more line drives.  If one applies his 2008 walk rate to his 2010 plate appearances he would have walked eight more times.  If one applies his  career HR/FB ratio to his 2010 data, he would have hit 33 home runs, or 12 more than his current total.  So if you're driving a narrative about Alex in decline, do you get upset about the eleven fewer line drives and eight walks and use the declining HR/FB ratio (incorrectly) as evidence that Alex is dead?  If you're pushing a narrative about Alex the Unlucky, do you deemphasize the relative importance of eleven line drives and eight walks while pushing the fact that his HR/FB ratio suggests that he should be getting more home runs than he is?  Hopefully neither.  Hopefully statistical analysis is used to create narratives, not confirm them.  Hopefully the analyst is honest, and isn't looking to hoodwink the reader or get the reader to buy their belief system.  Hopefully the analyst tries to present all relevant information and draw conclusions, while leaving space for alternative presentations.
Getting back to home run rates, then, here is Alex's spray chart for 2010, courtesy of TexasLeaguers.com: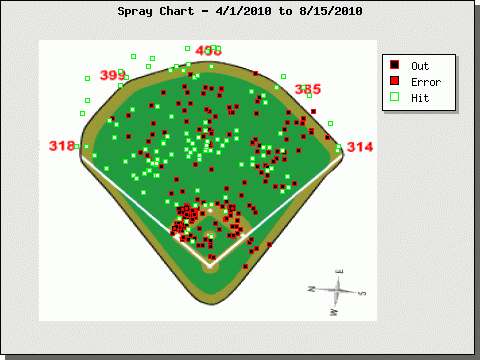 It looks like there are plenty of outs along the warning track that could have easily been home runs.  As always, more data would be helpful.  It would be nice to know the parks in which these outs were recorded, as well as the relevant weather and wind factors at the time.  Finally, there's one last part to the story.  Breaking down Alex's balls in play by type yields a bit more interesting information:
BABIP on grounders: 0.220 vs. league average 0.230
BABIP on fly balls: 0.090 vs. league average 0.141
BABIP on line drives: 0.780 vs. league average of 0.721.
As you can see, he's right in line on ground balls, way below league average on fly balls, and above average on line drives. In the past, I've analyzed the expected BABIP for four Yankees: Teixeira, Gardner, Swisher and Cano.  The idea behind xBABIP is to take the batted ball data and "separate skill from variance", creating a reasonable expectation for future performance.  Using the Quick Calculator and inputting Rodriguez's 2010 batted ball profile yields an xBABIP of 0.308, some thirty-three points higher than his current BABIP of .275.  A BABIP of 0.308 would result in a far, far better tripleslash line than what Rodriguez currently has.
These are the facts.  This is Alex Rodriguez's 2010 campaign.  I trust xBABIP, and I trust Rodriguez as an historically great player.  He will decline as he gets older, but if he's a stock I'm buying.  Whether you're joining me is entirely up to you.