"The lie is that it's one or the other" – Forever Overhead, David Foster Wallace.
Phil Hughes struggled last night against the Angels, going only 5 innings and giving up 9 hits, walking 3 and striking out 2.  His strikeout total matched a season-low mark that he set earlier this year in Baltimore.  Hughes has now seen his ERA rise to 3.99 and his K/9 decline to 7.90.  This we know.
We also know that Hughes did a good job mixing his pitches last night.  He fired 61 fastballs and 10 cutters; he threw 15 curveballs and 10 changeups.  He flashed good velocity on his fastball too, as the chart from Brooks Baseball demonstrates:

From a command perspective, Hughes did well with the fastball and the cutter. He threw 40 of 61 four-seam fastballs for strikes, but his command was actually a lot better than those numbers indicate.  The data from Texas Leaguers shows that he was squeezed by the home plate umpire:
He struggled more with his curveball and his changeup though.   He only got six strikes on his curveball, 40% total, and only three called strikes.  However, Texas Leaguers again shows that Hughes may have been squeezed on his curveball: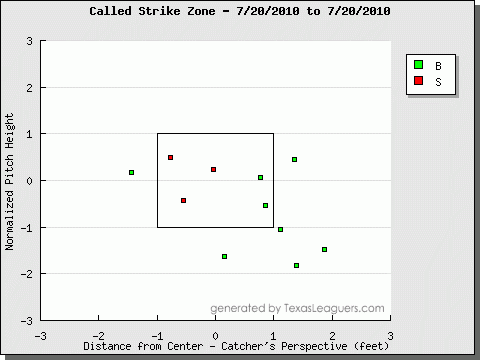 The home plate umpire was having trouble with the lower right quadrant of the zone, it seems.  On the changeup, Hughes was not disadvantaged in the least.  Of his 12 changeups, 3 were either fouled off or put into play.  The remaining 9 were all balls:
It's not pretty, but it's good to see Hughes attempting to mix in his changeup more frequently.  If he can gain some semblance of command and have the pitch in his arsenal to break out 5-10% of the time per game, then he might be able to further prevent hitters from sitting on his fastball and cutter.  Finally, we also see that Hughes tired as the game went on.  His velocity peaked early and slowly declined:
There are plenty of reasons that one could imagine, off the top of one's head, that would explain why Hughes wasn't at his best last night.  Here are five: 1. He was still hungover from CC's birthday bash 2. He stayed up extra late playing Guitar Hero and then didn't sleep well 3. He had an argument with his girlfriend and was in a really bad mood 4. He ate some bad pizza and his stomach hurt 5. He forgot his Mom's birthday and felt like a jerk.  None of them are probably true.  But there are dozens of reasons why people do not perform their absolute best at work every day and the same holds for Hughes.  Alternatively, there could be a perfectly legitimate baseball reason that would explain why Hughes wasn't at his best last night.  Here are two:
1. Hughes is approaching a career-high in innings.  He has already surpassed his career-high in major league innings, and has thrown more major league pitches this year than ever before.  It is not surprising in the least bit that Hughes is struggling down the stretch.  He's tired.
2. The time off between starts is messing with his rhythm.  Hughes had 10 days of rest between last night's start and his prior start.  The last time he had that much rest was between his 6/19 start against the Mets and his 6/29 start against the Mariners.  He struggled then as well, giving up 6 ER over 5.2 innings.
So what is the real reason, and what is the lie?
We don't know, any more than we know that one of the five wildly speculative things I imagined two paragraphs ago are true.   We certainly don't know enough to draw some serious conclusions about the way the Yankees are handling Phil Hughes and how he should be handled going forward.  Yet some, like Will Weiss from Bronx Banter, have, stating the following:
Skipping starts to curb innings is likely not the best move, as evidenced by the 10-day break between his home starts in June against the Mets and Mariners. The Yankees need him to be effective in September and October, yes, but they have to figure out a way to do this right.
On WFAN Saturday, Steve Phillips, commenting on the Cardinals' management of prospective NL Rookie of the Year Jaime Garcia, said Tony LaRussa and Dave Duncan are not taking chances with Garcia; they're not allowing him to start the seventh inning when he has a big lead. The Yankees can learn from that with Hughes. Skipping starts, especially as the pennant race heats up, could be devastating to both the Yankees' chances and to Hughes's development. Look what happened to the Tigers and Rick Porcello last year. Porcello was skipped several times over August and September as a means of preservation for the stretch run. He pitched well in the one-game playoff against Minnesota, but then this year had a miserable start and was optioned to Toledo in mid-June. He's back with the team now amid rumors he'll be packaged in a trade? Do the Yankees want to take that chance with Phil Hughes? Probably not.
No one knows if the Yankees have figured out a way to get Phil Hughes through the summer, through the playoffs and through his career healthy and effective.  Health and effectiveness are contingent upon a multiplicity of variables that are difficult, if not impossible, to control, isolate and explain.  We certainly shouldn't conclude, on the basis of two instances a month apart, that skipping starts is the wrong way to handle him.  Similarly, we shouldn't begin to conclude that Jamie Garcia is the model for Phil Hughes.  Neither should we say that the reason Porcello has struggled in 2010 is because he was skipped a few times 2009 (the same Porcello who threw about 300 innings between the minors and the majors as a 19 and 20 year old in 2008 and 2009, causing many to believe that his overall workload, not a restriction of his workload, is leading to his ineffectiveness in 2010).  Again, we don't know.
This is not to pick on Will Weiss, who is a much better writer than me.  Will Weiss could be dead-on.  This is to say that there are things that we can measure better than others.  Phil Hughes' velocity, command and strike zone are more easily quantifiable and accessible to the public than Phil Hughes' mindset, gastrointestinal state, seratonin levels or rhythm with respect to days off between starts.  We should try to draw our conclusions on the former as much as possible.  We know that Hughes had a subpar outing last night.  Beyond that, maybe it was just bad pizza.