Did Anderson and Martin Have a Gripe?
Last night Garrett Anderson and Russell Martin managed to get themselves ejected after arguing with home plate umpire Chris Guccione over balls and strikes.  They were both unhappy with the size of the strike zone Guccione was granting Rivera and made their displeasure clear.  This begs an obvious question: did they have a legitimate complaint, or were they melting down just like their overworked closer?  To the tape, er…screencaps!
First, Garrett Anderson.  Here is the MLB Gameday screencap of his at-bat, followed by the Brooks Baseball strikezone plot.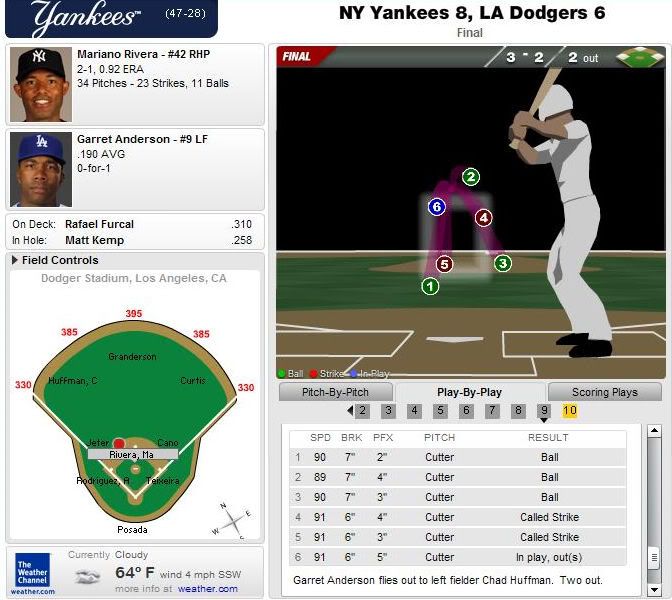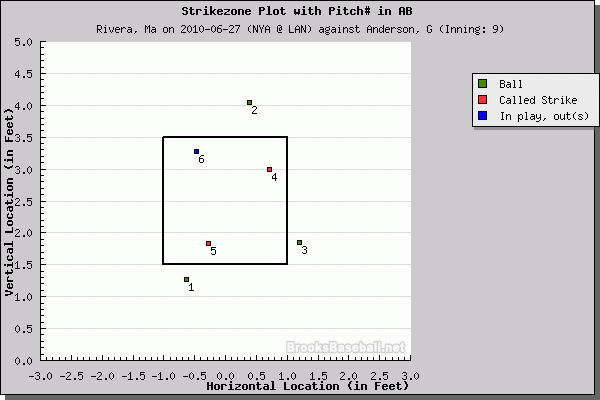 It would seem to me that Guccione called a very good strike zone here.  The first three pitches were balls, but they were all just barely out of the strike zone.  Rivera is known for getting a wide zone from umpires, but he wasn't getting any benefit of the doubt in this at-bat.  After going 3-0, he put one right on the inside corner to go to 3-1, and then placed a cutter low in the zone for the second strike.  In short, the umpire called all five of those pitches correctly.  What about Russell Martin?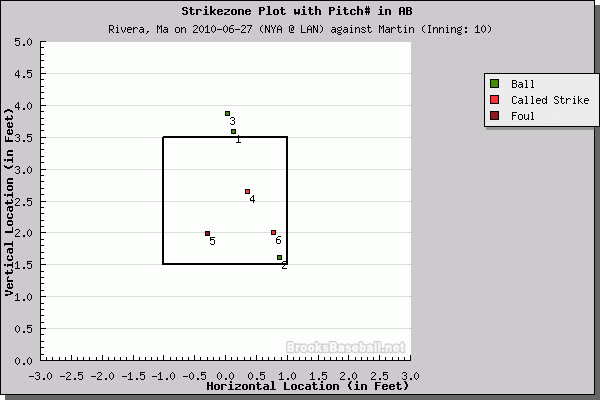 In the Russell Martin at-bat we see roughly the same pattern.  Guccione called three straight balls against Rivera to open up the at-bat, and all three were around the strike zone.  MLB Gameday shows the third pitch as borderline, but Brooks Baseball's chart actually shows that it should have been a called strike.  Regardless, after getting up 3-0 against Rivera, Martin took two cutters directly in the middle of the strike zone for strikes.  At 3-2, Rivera put a cutter roughly where the second ball had gone, but places it slightly higher and towards the middle of the plate.  Clearly, it was a strike.  Given that the cutter would have been running away from Martin and cutting across the plate the entire time, it's hard to see how Martin had the right to upset at anyone other than himself.
The Dodgers were not robbed, and Guccione called a fair strike zone.  More than anything, it looks like both players were hoping that Guccione would give them a called ball four and a free base against Rivera.  Perhaps they doubted their ability to get a hit off Rivera and went up angling for a walk.  Regardless, the calls were correct.  In a year that has been seemingly full of umpire and referee mistakes (also here,  here, here and here) it's nice to see the men in blue get one right for a change.  Guccione did his part to stave off the robot umpire army for one more day.