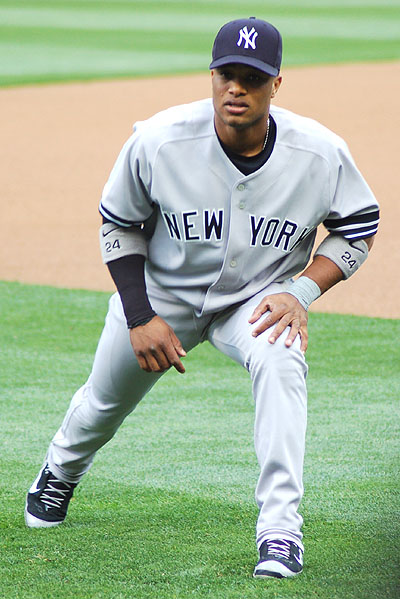 I've done a handful of these projection things, but I haven't done one for Robinson Cano. Over the past few weeks, especially yesterday, Cano's been a popular subject on The Yankee U and across the Yankee-based media. Like I've done with the other guys, I'd like to start outside the numbers before diving in.
Robinson Cano is a hell of a baseball player. He's got a gorgeous swing and a very strong arm. I am going to say a few things and I mean them with every fiber of my being. I want all of you reading this post to take these statements to heart.
Robinson Cano is not lazy. He likely cares more about performing on the baseball field than you or I care about almost anything in our lives. Cano's talent and performance is not dependent on someone else. He doesn't need Larry Bowa looking over his shoulder, reminding him how to do things. He doesn't need to have his friend Melky Cabrera next to him as a pseudo security blanket in order to perform. Robinson has worked harder than we can ever imagine to get to where he is and it has paid off incredibly. Cano is among the top three second basemen in the game and he didn't get there by luck and talent alone. He is not, I repeat, not lazy, nonchalant, or careless.
Carrying on, Cano rebounded from a pretty dismal 2008 with a great 2009. He set a career high in homers with 25, OPS+ with 125, and IsoP with an impressive .199. His wOBA (.370) and wRC+ (128) were each the second highest they've been (2006: .377, 130).
Cano's 2009 was beyond successful and he's truly blossoming into a great offensive player. If he keeps up this hitting and improves his fielding, he will bump Dustin Pedroia (whom I feel has an edge because of his better on-base skills and his fielding) as the second best second baseman in baseball (Chase Utley is the best, and there's no question at all). Let's see what the projection systems see in 2010 for Robbie:
.306/.339/.489/.828; 20 HR; 86 RBI; 31 BB; 68 SO, 289 TB, 42 2B.
That's an awesome line, especially considering it'll be coming from a second baseman. The patience and plate discipline may not be there yet–it may be wishful thinking that they come any time soon–but the power is still there and so is a general lack of strikeouts. Remember, this is just an averaged out projection and Cano could easily outperform it and put up a line closer to what he did in 2009. In fact, I'd say he's more likely to hit like he did in 2009 than he is to hit at that projection. Cano will be 27 this season and is entering his baseball-playing prime. This means very good things for the Yankees.