Reviewing this Offseason, Part Two
On Monday, I talked about the Yankees offseason on the mound and today, I'll talk about the hitters. To keep this more brief than the previous post, I'll limit this to additions and subtractions that will affect the Major League team most.
Let's start with Johnny Damon's departure. Obviously, losing a player of Damon's caliber is going to mean the team's offense takes a bit of a hit. However, I'm of the opinion that Johnny Damon needed the Yankees more than the Yankees needed Johnny Damon. The Yankees also got a more-than-adequate-replacement for Mr. Damon: Curtis Granderson. Curtis represents an upgrade over Damon because he is not only younger, but he is also more versatile. At this point, Damon is an LF/DH; Granderson, on the other hand, can–and likely will–play center field for the Yankees in 2010.
The deal that brought Granderson to the Yankees was a good one. At the beginning, I was skeptical about bringing him in. Then again, that's when the cost was reported to be Austin Jackson and Phil Hughes. Trading Jackson, along with Phil Coke (and IPK to the D-Backs), for Granderson was a deal that you have to make 100 times out of 100. Jackson's stock has taken a small hit at each level–though I still think he can be at leat an average Major League player at his peak–and Coke has limited upside. Adding a center fielder with a pretty friendly contract (never makes more than $10MM guaranteed, $13MM option in '13) is always a good thing.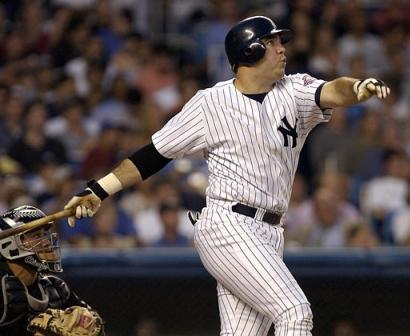 Next, we come to the DH situation. The Yankees let WS MVP Hideki Matsui walk after he had an absolutely fantastic year. Like the Damon situation, this is a case in which the player needed the team more than the team needed the player. Matsui stayed (relatively) healthy in 2009 by just hitting and not playing the field, but by letting him go, the Yankees were signaling to Matsui–and perhaps the rest of baseball–that they do not have faith in Matsui's knees holding up for another year. And maybe they're right.
To replace Matsui, the Yankees brought back old friend Nick Johnson. Johnson projects to be the team's number two hitter and could easily produce at a similar level to that of Matsui, though he'll do it in different ways. Obviously, Mastui's power made him a more traditional DH. While Johnson likely won't hit for that sort of power, his on-base ability gives the Yankees another piece to the patience machine that is their lineup and he should fill in quite nicely.
Rule V pick Jamie Hoffmann will compete for the last bench spot against spring training invitee Marcus Thames. In Hoffmann, the Yankees would be getting the outfield only equivalent of Jerry Hairston, Jr: he's not going to be there for his bat. The book on Hoffmann is that he plays great defense, but may not be much of a hitter. Thames would be a righty version of the lost Eric Hinske: he's there to mash the ball when he gets to the plate.
After four frustrating years in pinstripes, Melky Cabrera is also gone. He'll be replaced by Randy Winn. Essentially, they are the exact same player: switch hitters who hit at a league average level, play good defense at the corners, and iffy defense in center field. While it's unlikely that Winn makes us forget about Melky, he likely won't make us wish for another "glass of Leche."
Backup catcher Jose Molina recently signed with the Jays, and his spot will be taken by "incumbent" Frankie Cervelli. As depth, the Yankees signed veteran backstop Mike Rivera to a minor league deal. It's unlikely he makes a big difference on the 2010 team, but he's better depth than Kevin Cash (well, that isn't saying much).
Lastly, there's the relatively forgotten man of 2009: Xavier Nady. Deemed too pricey for the Yankees, Nady will play for the Cubbies in 2010. I was never a huge fan of Nady, but if healthy/at the right cost, he could've been a very useful bench outfielder.
In terms of upgrades and downgrades from 2009, I think Curtis Granderson will be the biggest upgrade; that is, the upgrade from last year's CF to this year's (presumably CG) will be bigger than any other addition. The only one that could come close is the DH spot. I think Johnson could easily match, or even outproduce, what Matsui did in '09, but that improvement will likely not be bigger than the one Granderson brings.