Are the Yanks Built for October?
With a 6 game lead in the AL East and a 4.5 game lead for the best record in the American League, its natural for fans to start looking forward to the playoffs, and wonder how the Yanks will stack up. The best way to do this is with looking at their likely opponents, and then examine game by game match ups. But there are other elements to teams that tend to win come October. The latest edition of NY magazine has a piece by Jay Jaffe of Baseball Prospectus that looks at the big picture, and the examines what teams share in common that tend to win come October. He writes:
Silver and co-researcher Dayn Perry tested dozens of variables using over 30 years of data to see which best corresponded with winning playoff games. They found that age and postseason experience had no effect on a team's chances; surprisingly, they also found no significant correlation between any measure of team offense (including bunting and stealing) and postseason success. What they did find important were three measures of pitching and defense, which they called the "Secret Sauce":
Finding that your lineup won't carry you come October should come as no surprise to Yankee fans, they've seen recent editions of the Yanks that have killer lineups go quietly in the ALDS year after year. The last Yankee team to get to the World Series was the last team that finished in the top 3 in AL team ERA.
The elements they found were power arms on your pitching staff (as measured by normalized strikeout rate), a good closer (measured by Reliever Win Expectancy Added) and good fielding (as measured by Fielding Runs Above Average). Teams that excel in these three areas tend to excel in October. They ranked the current playoff teams, and here's their findings-
Here are the five best "Secret Sauce" squads from this season (the score is simply compiled by adding each team's league rank, included at right in parentheses; lower scores are better).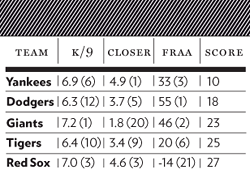 As you can see, the Yanks are heavy favorites to go deep onto the playoffs this year. We all know that strange things can happen in a short series, and much can change between now and October in terms of injuries and/or ineffectiveness. How a team is playing in a month can be very different from the measures gained over the course of a long season. But as of today, if you were placing a bet on a team, the smart bet would be the Bombers.