Selig: "Thinking About" Discipline For Alex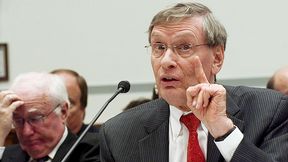 Via ESPN:
Selig told USA Today on Wednesday afternoon that he is "just heartsick" about Rodriguez's admission and would not rule out punishing him or adjusting baseball's record book. Selig told USA Today he "had put a bulletin out" about the illegality of steroid use in 1997, even though MLB had no drug testing at that time.

"It was against the law, so I would have to think about that," Selig told USA Today when asked about possible action against Rodriguez.  "It's very hard. I've got to think about all that kind of stuff."

Donald Fehr, executive director of the Major League Baseball Players' Association, said Wednesday he didn't anticipate disciplinary action against Rodriguez.
So Bud claims to be considering disciplining A-Rod due to his failing an MLB anonymous drug test that was to have no consequences for individual players. Being that Selig did not take action against Barry Bonds or adjust the record books after all of the major records were actually broken, this seems like Bud covering his behind. He takes fire over the steroid era every time new information is released, and each time he makes a statement similar to this one. Bud needs to accept the fact that he screwed up regarding the steroid era (But he issued a bulletin!!!!) and concentrate on moving past the issue. The best way to do so is to implement strong testing to prevent future steroid scandals and to stop focusing on the past.